"I never fucked anybody over in my life, who didn't have it coming to them. You got that?"
―Mission description
The Peninsula Lounge is a high-end bar in North Beach, Miami which is frequented by a rich clientele.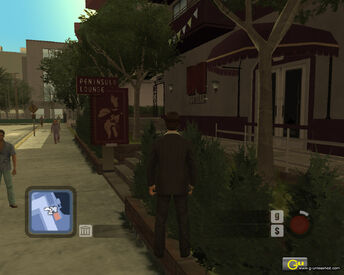 In Scarface: The World Is Yours
Edit
Like other fronts it becomes available once Tony unlocks its respective turf. The owner tells Tony that a bent cop is trying to force her into paying protection money, and says she'll do business once the player get's rid of him. Tony figth's his way througth the officer's guards and the later boards a Cigarette Boat, Tony gives chase in a Picklefork and eventually destroyes the cops boat, or shoots the cop enough times, killing him either way. Tony then buys the Lounge for $8,000,000 ($7,200,000 if the player has purchased Montana Holdings).
Mission reward
Edit
Reputation: +55,677
Balls: +811
Drugs: +42
Total cash: +200,000
Mission Walkthrough video
Edit
Community content is available under
CC-BY-SA
unless otherwise noted.