| | | |
| --- | --- | --- |
| | This article or section needs to be cleaned up, you can help editing or talking to an Admin | |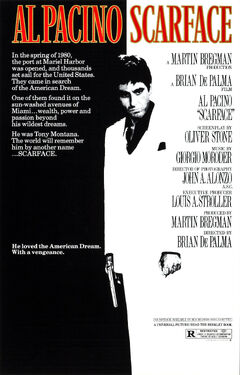 Scarface is a 1983 film directed by Brian De Palma, written by Oliver Stone and starring Al Pacino as Antonio "Tony" Montana. A loose remake of the 1932 Howard Hawks gangster film of the same title, it tells the story of a fictional Cuban who comes to Florida in 1980 as a result of the Mariel Boatlift.
Tony becomes a gangster against the backdrop of the 1980s cocaine boom. The film chronicles his rise to the top of Miami's criminal underworld and subsequent downfall in Greek tragedy fashion.
The film is dedicated to Howard Hawks and Ben Hecht, who were the writers of the original Scarface.
Plot
In July 1980, Cuban man Tony Montana claims asylum, in Florida in the United States, and is in search of the "American Dream" after departing Cuba in the Mariel boatlift in which Castro emptied his jails.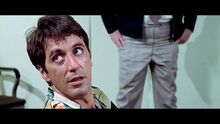 When questioned by INS officials, Montana is detained on suspicion of apolitical criminal activities, in a camp called Freedomtown with other Cubans, while the government evaluates their visa petitions. To be released after thirty days of governmental dithering and camp rumors, and be given green cards, Montana, with the help of his best friend Manny Ray, kills a former aide to Fidel Castro, Emilio Rebenga. The murder of Rebenga was requested by Frank Lopez, a wealthy, politically astute man who deals cars and trades in cocaine, as Rebenga had tortured Lopez's brother to death while still in Cuba.
After getting their cards, Tony Montana and Manny Ray are working as dishwashers in a corner sandwich shop when a Lopez henchman, Omar Suarez, offers Tony and Manny a job unloading marijuana. Tony insults Suarez by turning down the job, so Suarez sets him up to pick up a sample of coke from a Colombian dealer, Hector. Tony, Manny, and two other Marielitos in his crew, Angel Fernández, and Chi-Chi then set out to meet Hector the Toad at a seedy motel on the beach. The meeting does not go smoothly, as Tony grows irritated with Hector, who is slow to give him the cocaine in exchange for money. Suddenly, Montana and Angel are double-crossed in a rip off move by the Colombian. To convince Tony to give over the cash, Angel is dismembered in a shower stall with a chainsaw by Hector. After Angel is dead, Montana, about to suffer the same fate, is saved by Chi-Chi and Manny who arrive in the nick of time to gun down Hector's henchmen in the hotel room. Hector escapes but Tony vengefully confronts him in the street and shoots him dead in the middle of Ocean Drive, the now famous Miami South Beach boulevard. Tony and his crew then get away with both the coke and the money before the police arrive. Montana then impresses the money's owner, Lopez, with not only the return of his cash but with a gift of the coke, a prize from the botched rip off. Frank immediately hires Tony's crew into his criminal hierarchy, representative of a Cuban mafia. But during this initial get together Tony also meets Lopez's lady, the blonde and beautiful Elvira Hancock, who will eventually become the source of tension between the two men. Thus, Montana begins his rise through the ranks of the Miami cocaine underworld.
While on business in Bolivia to help Omar set up a new distribution deal for Lopez, Montana, feeling that Frank is "soft," begins to show his defiance to Lopez's authority when he negotiates a deal with Alejandro Sosa, the ruthless and powerful Bolivian drug lord. Sosa finds out during the trip that Omar was an informant for the police and has him murdered to show Tony his intolerance for disloyalty. Upon his return to Florida Tony gets into trouble with Frank over the deal, who accuses him of "stealing" it. Montana then leaves Lopez to strike out on his own. This allows him to seek out Elvira to whom he makes an unexpected marriage proposal. Lopez is none too happy and decides to take out Tony.
But his move to assassinate Tony fails as two hitmen, hired by Lopez to kill Tony at the Babylon Club, cannot get it done. A vengeful Montana decides to take over Frank's business. That same night he and Manny kill both Frank and the cop on his payroll, Miami Chief of Narcotics Mel Bernstein, who had already shaken down Tony for a hefty monthly payment and airline tickets to London.
His problems apparently solved, Tony begins a profitable relationship with Sosa, marries Elvira, buys a new mansion, and sets his sister Gina Montana up in business with her own beauty salon. But as Montana's business grows, so does his cocaine addiction and paranoia. It is the beginning of the end. His wife, who becomes further addicted to cocaine, becomes distant. His banker informs him that he will be charging higher fees for washing the increasing flow of drug money. After Manny convinces him that he has a way to save money on the laundering of the coke cash, Montana is arrested in a sting operation by Manny's contact, an undercover cop. Montana's lawyer tells him that he will probably have to serve prison time for tax evasion.
Sosa, not wanting to lose his main distributor, steps in to intervene by offering Tony a way out of going to prison. He introduces Montana to his cocaine "board of directors" a group that includes Bolivia's military chief and a mysterious American referred to as Charles Goodson "from Washington." We assume he is a CIA officer because Sosa guarantees that the IRS will not be able to send Tony to jail. In exchange, Montana must assist in the assassination of a journalist attempting to expose Sosa, his partners, and the ongoing corruption in the Bolivian government. Montana agrees but later has second thoughts when the journalist, now in New York to expose the cartel at the UN, unexpectedly picks up his wife and children. Tony, saying that the team was only supposed to kill the journalist, instead then shoots the assassin to prevent the journalist's family from being killed. Thus he seals his fate with Sosa.
Returning to Miami, Tony discovers that both his sister Gina Montana and right-hand man Manny Ribera have disappeared. Tony has long harbored an apparent unnatural obsession for his sister and is overly protective of her for reasons that he may not understand himself. After getting Gina's address from his mother, who doesn't know who lives there, Tony goes to the house. Manny unexpectedly opens the door. Tony then sees Gina in a night gown at the top of the stairs. Enraged that another man has obviously slept with his sister, Tony kills Manny. Hysterically, Gina reveals that they had just been married, yesterday. Tony has Gina taken back to his mansion where all hell is about to break loose: in revenge for the missed opportunity to kill the journalist, who has now exposed him and his partners to the world as a drug lord, Sosa sends an assassination team to Montana's mansion to kill him. Sitting at his desk snorting from an enormous pile of cocaine, Tony realizes and regrets what he has done to his best friend. Suddenly Gina enters his office armed with a pistol to confront him with the truth about his feelings for her. She now realizes that Tony loves her in an unnatural way and demands, at gun point, that he make love to her. She begins to shoot at him while demanding he take her. A Sosa assassin hiding on the balcony, thinking Gina is shooting at him, leaps in and riddles her with bullets. Tony, enraged, throws the man off the balcony and kills him.
As his men are being killed, Tony still delirious from the cocaine leans over Gina's body begging for forgiveness, at the same time the hitmen break into the mansion, Chi-Chi opens fire with an Uzi as he backs up banging on the door but Tony does not seem to hear him, Chi-Chi is shot in the back and Tony sees it on the cameras.
As the hitmen prepare to storm his office, Tony takes an AR-15 (a.k.a. "Little Friend") with an under-barrel M203 grenade launcher and yells out "Say hello to my little friend!) and blows down the door with a 39mm grenade. As he shoots and kills many of the hitmen, he is shot in the back with a Shotgun by The Skull, Alejandro Sosa's righthand man, and falls into the pool at the end of the stairs, below the globe that says THE WORLD IS YOURS. The film ends as The Skull walks down the stairs while Tony is floating dead in the pool.
Cast
Production & controversy
Scarface was directed by Brian De Palma, produced by Martin Bregman, and written by now famed director Oliver Stone battling against a cocaine addiction. Stone consulted the Miami police and the Drug Enforcement Agency while writing the film, incorporating many true crimes into the film, including using crime scene photos to inspire the infamous chainsaw scene.
The film was originally to be filmed in Florida but received criticism from the Cuban community who objected to various aspects of the film. Community representatives were opposed to the depiction of Cubans as drug dealers and demanded that the script be changed to incorporate anti-Fidel Castro rhetoric (most notably, changing Tony Montana into a spy working for Fidel Castro and the introduction of anti-Castro political organizations into the plot as foils for Montana) into the film. After protracted negotiations the producers ultimately refused to give in, saying the film was about cocaine and not the politics of Castro's Cuba. In order to ensure the safety of the crew and to avoid confrontations - with the exception being obvious exterior shots - the movie was filmed in and around Los Angeles.
When the film was submitted to the MPAA it was rated "X" for its extreme violence and graphic language, with the shooting of the clown performer and the chainsaw torture sequence the primary objects of concern. DePalma cut the film twice but it still received an "X" rating. After the film was rejected for the third time DePalma with the help from a panel of experts including real narcotics officers told the MPAA the violence was an accurate portrayal of real life drug dealers and the film should be released with the violence intact to show viewers how violent the drug business was. With a third vote of 18 to 2 in favor of an "R" the MPAA agreed. But DePalma, who felt the differences between the two 'clean' cuts he put together were insignificant, arranged to have the uncut version released to theatres with an "R" rating instead.
Critical reception
Scarface held its premiere on December 1st, 1983 in New York City where it was initially greeted with mixed reaction. Among those in attendance were the film's two stars: Al Pacino and Steven Bauer as well as Burt and Diane Lane, Melanie Griffith, Raquel Welch, Joan Collins; her then-boyfriend Peter Holm and Eddie Murphy among others. According to AMC's "DVD TV: Much More Movie" airing: Cher loved it, Lucille Ball, who came with her family, hated it because of the graphic violence and language; Dustin Hoffman was said to have fallen asleep. Writers Kurt Vonnegut and John Irving were among those who were said to have walked out in disgust after the notorious "chainsaw" scene. At the middle of the film, Martin Scorsese turned behind to Steven Bauer and told him "You guys are great - but be prepared, because they're going to hate it in Hollywood. . . because it's about them."
Scarface, upon its first release, drew controversy regarding the violence and graphic language in the film, and received many negative reviews from movie critics. Despite this, the film grossed $65 million worldwide and has since gathered a large following. On the 2 Disc Special Edition, director Brian De Palma said that the film was well received by only one notable critic, Vincent Canby of The New York Times. However, Roger Ebert rated it four stars out of four in his 1983 review and he later added it to his "great movies" list. IMDb cites that the word fuck is used 207 times in the film.
Releases
VHS
Scarface was initially released by MCA Home Video on VHS and Beta in the summer of 1984; a two-tape set in 1.33:1 Pan and scan ratio and quickly became a bestseller, preluding its cult status. A 2.35:1 Widescreen VHS would follow years later in 1998 to coincide with the special edition DVD release. The last and most recent VHS release was in 2003 to counterpart the 20th anniversary edition DVD.
DVD
Scarface has been released on DVD three times in the United States as of 2007. The first was released by Universal Studios Home Entertainment on the film's 15th anniversary in 1998 under the studio's "Collector's Edition" line. The DVD featured a non-anamorphic widescreen transfer, Dolby Digital 2.0 Surround, a "Making of" documentary, outtakes, production notes and cast & crew bios. This release was not successful, many fans and reviewers complained about its unwatchable video transfer and muddled sound, describing it as "one of the worst big studio releases out there". This DVD quietly went out of print and in 2003 Universal released a remastered two disc "Anniversary Edition" to coincide with the film's 20th anniversary re-release, featuring two documentaries; one re-edited from the last release to include new interviews with Steven Bauer (Manny) and another produced by Def Jam Recordings featuring interviews with various rappers on the film's cult success in the hip-hop world and other extras ported over from the previous DVD. New to this edition was a 2.35:1 Anamorphic widescreen transfer and 5.1 surround sound in both Dolby Digital and DTS. Curiously, the limited theatrical re-release also boasted a remastered soundtrack with enhanced sound effects and music, but the DVD's 5.1 tracks were mixed from the film's original audio; resulting in noticeably limited frequency and surround effects. A limited-edition box set was also produced featuring a gold money clip, production stills, lobby cards and a DVD of the original Scarface. In 2005, Universal released a single disc movie-only version of the Anniversary Edition, with deleted scenes as the sole bonus feature.
In the fall of 2006, Universal released Scarface in a two disc "Platinum Edition", featuring the remastered audio from the theatrical re-release in Dolby Digital and DTS 5.1 surround. Most of the extras (with the exception of the Def Jam documentary, production notes and cast & crew bios) from the Anniversary Edition were also included along with two new featurettes regarding the new video game and the criminal and cultural world of Miami in the 1980s. Also new to this edition was a "scoreboard", which counted number of bullets fired and uses of the word "fuck" throughout the film.
Spin-offs & Tie-ins
There have been a number of spin-offs and tie-ins in a range of media.
Music
The music in Scarface was produced by Academy Award winning Italian record producer, Giorgio Moroder. Like Moroder's style, the soundtrack consists mostly of synthesized new wave, electronic music.
Video games
A licensed video game, Scarface: The World Is Yours was released in September and October 2006 as well as an update in June 2007, developed by Radical Entertainment and published by Vivendi Universal Games. The game is a pseudo-sequel, and goes on the premise that Tony actually survived the raid on his mansion at the end of the film. Wii, PS2, Xbox, and PC versions have been released.
Radical and Vivendi also released a second licensed video game, Scarface: Money, Power, Respect, in October 2006. The game is much like Scarface: The World is Yours, but one main difference is that the second game deals more with the controlling of drugs and managing of the Montana cocaine empire and turf, whereas The World is Yours is mostly focused on getting rid of gangs, gaining respect and overall reconstruction of the empire. To date, only a PSP version of this game has been released.
The hit Grand Theft Auto: Vice City also has some small similarities to Scarface, like an easter egg that has the bloody bathroom from the chainsaw scene, Also the Malibu Club is very similar to the Babylon Club. In the beginning of the game, Tommy Vercetti's drug deal gets busted, much like the coke deal that Tony gets double crossed in. There is also a mission in the game where Tommy and his partner Lance Vance kill Tommy's cocaine-dealing boss Ricardo Diaz, much like when Tony and Manny kill Frank. Finally, the last mission of the game ("Keep Your Friends Close...") is a slight spin-off of the final scene in Scarface. In this mission Tommy has to fend of a whole rival gang in his mansion with only a few weapons. The only difference, however, is that Tommy lives through the fight with Ken Rosenberg to start "a new business relationship".
The game PAYDAY 2 has numerous references to Scarface. The contractor, Hector, is a Colombian cartel head, who is named after the character Hector from the film, though he dresses and acts in a similar manner to Montana himself. When he is discovered to be a traitor, and the gang head out to kill him, if the players are unable to open his panic room quietly while, he will prepare for their attack, and as the door opens he will yell "Say hello to my little friend." Universal later partnered with Overkill Software, to make expansion packs for their game, based on the the film. The packs include Tony as a playable character, under the moniker "Scarface." Since the gang wears clown masks to conceal their identities, he wears a mask that is inspired by the black and white poster for the film, bearing a scar on the right eye similar to Tony's. He has two signature weapons, the "Little Friend 7.62" which is modelled after Tony's signature M16 and M203 Grenade launcher, and a short chainsaw, inspired by the scene in which Angel is killed by Hector, the game also features a perk deck, which makes the player able to take more damage before being downed, similar to Montana's coke fuelled last stand where he was shot numerous times yet remained standing. A heist that takes place in Tony's mansion where the players must take out members of the Sosa Cartel.
Books & comics
Dark Horse Comics' imprint, DH Press, released a novel called Scarface: The Beginning by L. A. Banks.
In 2007, IDW Publishing released a new series called Scarface: Scarred for Life, which picks up where the film ends; as in the video game, it depicts Tony Montana barely surviving the film's climactic shotgun blast and, with the aid of two corrupt DEA agents, recovering to rebuild his empire and seek revenge on Sosa. This series was written by John Layman, with art by Dave Crosland. IDW followed it in July 2007 with a prequel comic mini-series called Devil in Disguise, by Joshua Jabcuga and Alberto Dose, which shows Antonio's pre-boatlift days as a boy learning his way around the Cuban criminal underworld.
TV & film
In the year 2001, plans were set into motion for hip hop artist Cuban Link to write and star in a sequel to Scarface entitled Son of Tony. The plans for a prospective sequel drew both praise as well as criticism, and after several years Cuban Link had expressed that he may no longer be involved with the project as the result of movie rights issues and creative control.
USA Network announced in 2003 they would be producing a mini-series based on the movie; however, the series' current status is unknown.
Pop culture
Scarface has been frequently referenced to in other popular works. In particular, the "Say hello to my little friend" line is repeated in various movies, television shows and video games. The line took 61st place as the most famous quote on the list AFI's 100 Years... 100 Movie Quotes.
In the 2007 video game The Simpsons Game on DS, in the level Five Characters in Search of An Authour, Bart Simpson will confront Matt Groening in Scarface's mansion, the globe will be saying The World, Dude.
The opening sequence of Scarface was duplicated for the opening of the Beastie Boys concert movie, Awesome; "I Fuckin' Shot That!".
Tony's M16 rifle, which he dubbed his "little friend", ranked eighth in a 20th Century Fox film poll regarding the most popular film weapons. The 2008 poll surveyed approximately two thousand film lovers.
The "Say Hello To My Little Friend" part was used in Epic Movie, where a faun was Tony.
In the Season 9 episode of the animated series South Park titled "Erection Day." For the school Talent show, the character Eric Cartman, recites Scarface's famous "Bad guy" monologue, to the amusement of the crowd and horror of the faculty. South Park also made extensive references to Scarface in the Season 14 episode "Medicinal Fried Chicken" during wing KFC is banned in South Park, Cartman wanting to get more chicken joins a cartel intent on smuggling KFC into the town. eventually leading to Cartman meeting Colonel Sanders (taking the place of Alessandro Sosa.) There are many lines and scenarios lifted verbatim, from the movie, though modified to be about Fried Chicken instead of cocaine (though oddly enough, during a scene reminiscent of Tony's final call with Sosa, Cartman cuts and snorts a piece of chicken skin up his nose.)
Community content is available under
CC-BY-SA
unless otherwise noted.