Welcome
---
Welcome to Scarface Wiki, a collaborative encyclopedia about Scarface series of movies and games that anyone can edit. The wiki serves as a repository of images, artwork, books, dialogue, audio, videos, as well as explanatory articles summarizing information about significant characters, locations, missions, vehicles, weapons, cartels, mechanics, and lore concepts, real-world material, and select external texts. We currently have 349 articles.
Scarface is a 1983 film directed by Brian De Palma, written by Oliver Stone and starring Al Pacino as Antonio "Tony" Montana. A loose remake of the 1932 Howard Hawks gangster film of the same title, it tells the story of a fictional Cuban who comes to Florida in 1980 as a result of the Mariel Boatlift.
Featured Article
---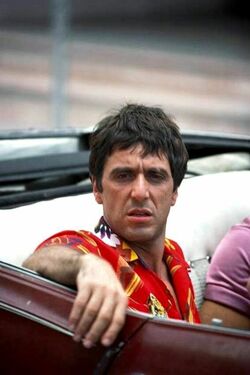 Antonio "Tony" Raimundo Montana is the protagonist of Scarface and the video game Scarface - The World Is Yours. He was portrayed by Al Pacino in the movie and voiced by André Sogliuzzo in the game. Tony Montana has become a cultural icon and is one of the most famous movie characters of all time, embodying the rise from the bottom to the top.
Featured Image
---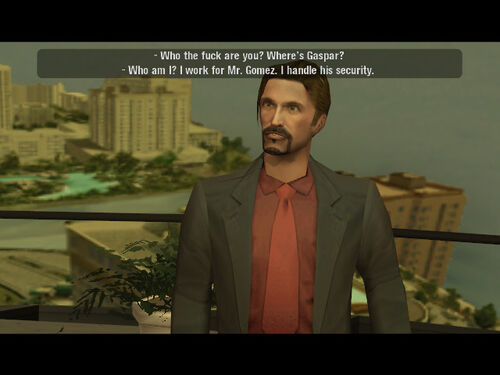 Ricardo was Gaspar Gomez's head of security. Tony Montana kills him at the Le Normande hotel when he refuses to tell him the location of Gaspar by throwing him off of the roof to his death.
After he is killed, members of Gaspar cartel will come and attack Montana, though he manages to escape with a car filled with Gaspar Gomez's money.
Helping out
---
Welcome to Scarface Wiki! Feel free to
join us
and contribute to this wiki. Everyone is free to create a new page or edit any
existing one
.
Questions about wiki editing should be directed towards the administrators.
de:Scarface_Wiki